Sustainable Agriculture Studies
Sustainable Agriculture with Farmers
Tat Gıda believes it is important to work in
cooperation with farmers, who are the most
critical stakeholders, and to lead the way in
terms of both financial support and the use of
new technology in order for them to be able to
continue their work.
Farmers are trying to produce and provide safe food every day while coping with many problems. Issues such as the shrinking amount of arable land, decreasing productivity, and anomalies caused by the climate crisis are all highly relevant to both farmers and companies engaged in food production. 80% of farmers in Turkey are struggling to adapt to climate change, and these problems have caused the number of farmers to decrease in recent years. Data from the last 5 years show that the number of farmers in Turkey has decreased by 28.7%.
Farmers need sustainable agricultural policies and a wider use of agricultural technology to reduce costs and increase productivity, and to do this they need technology to be produced,and share their knowledge and experience. Tat Gıda's practices support the farmers it works with, with the aim of creating an environment in which many business partners who are leading the technological transformation of agriculture and food can cooperate easier thanks to new investments.
With its vision of sustainable agriculture, Tat Gıda aims to help farmers develop, communicate easier, and make digitalization more widespread in tomato farming. Through its contract farming and digital agriculture projects, Tat Gıda enables farmers to produce more efficiently, while also providing financial aid which help farmers continue their business.
Contract Farming
One of the first companies to implement "Contract Farming" in Turkey, Tat Gıda has been practicing this uninterruptedly for 55 years to ensure the continuity of the ecosystem. It works with over 1000 farmers, about 500 of whom are contracted.
The basic working principle of this model is a contract between farmers and the industrial plants that process crops, according to a long-term projection of agricultural supply and a win-win understanding. This model contributes significantly to the sustainability of agriculture in regions where these production plants are located. Farmers get support throughout the process with contracts made at sowing time before the tomato season, through in-kind and cash advance payments as well as digital agricultural support until harvest time.
Tat Gıda supports farmers' cash flow with advance payments, but also offers in-kind advances for seedlings, seeds, fertilizers, and drip irrigation systems. In 2022, approximately TL 31.5 million was paid in cash advances and approximately TL 41.5 million was paid as inkind advances, totaling about TL 73 million paid in advance to help finance and support farmers.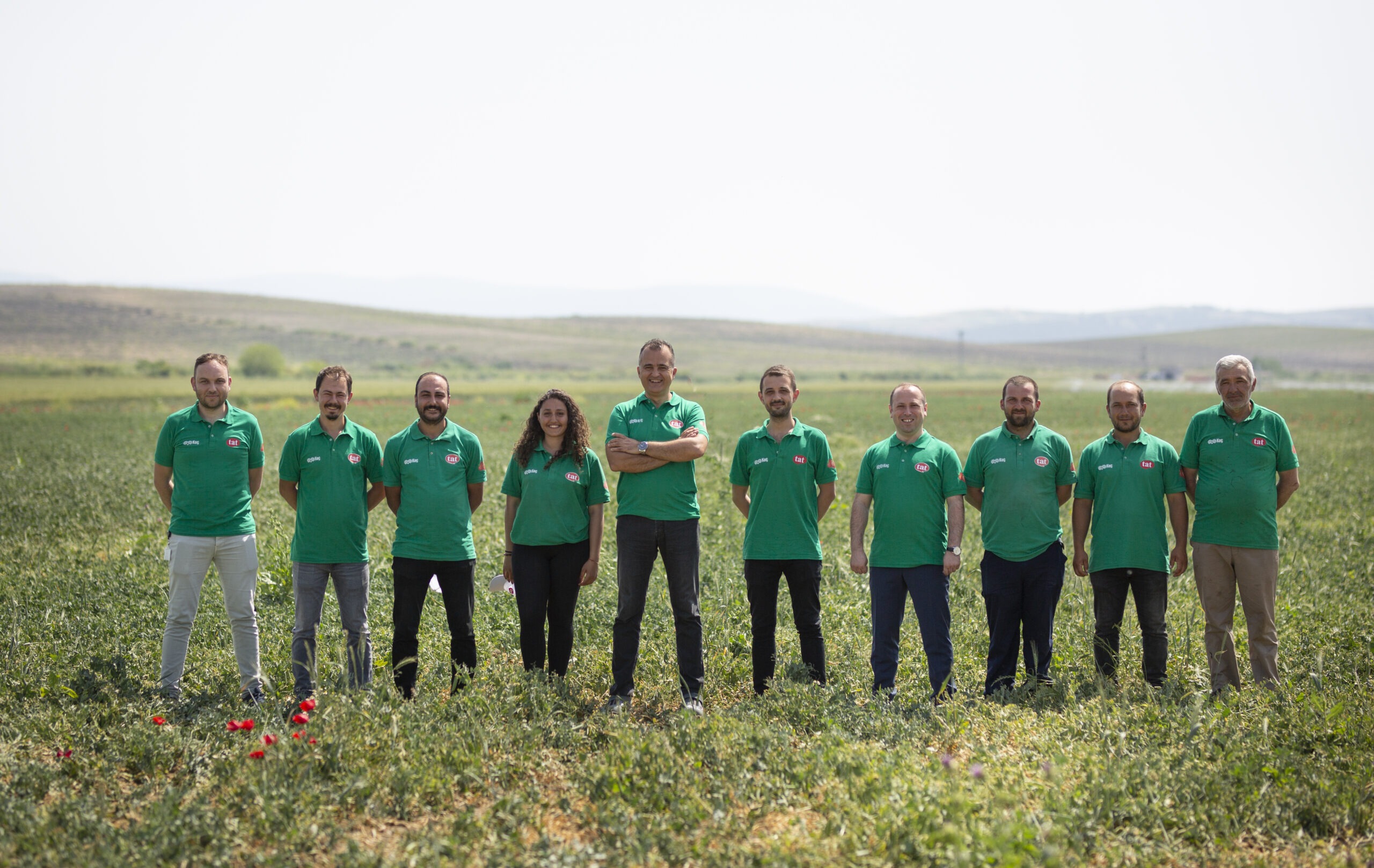 2022 TISK Award Program
Tat Gıda won an award with its ''Contract Farming and Digital Agriculture Program'' at the Corporate Social Responsibility Award Program which has been organised every year by TISK (Turkish Confederation of Employer Associations).
Agricultural Value Chain
The "Agricultural Value Chain" project that has been initiated, contract farmers to benefit from the financial resources of the company to create value and to maintain their financial sustainability. In this context, farmers obtain agricultural financing without waiting for their receivables to mature, without the need for limit procedures, without collateral, and at favorable market conditions. In addition, in 2022, for the first time, farmers were given Efficient Farmer Credit Cards that were interest-free and payment free until harvest time, so they could buy their agricultural inputs without predetermined conditions and collateral. 157 farmers received additional financing opportunities in this project.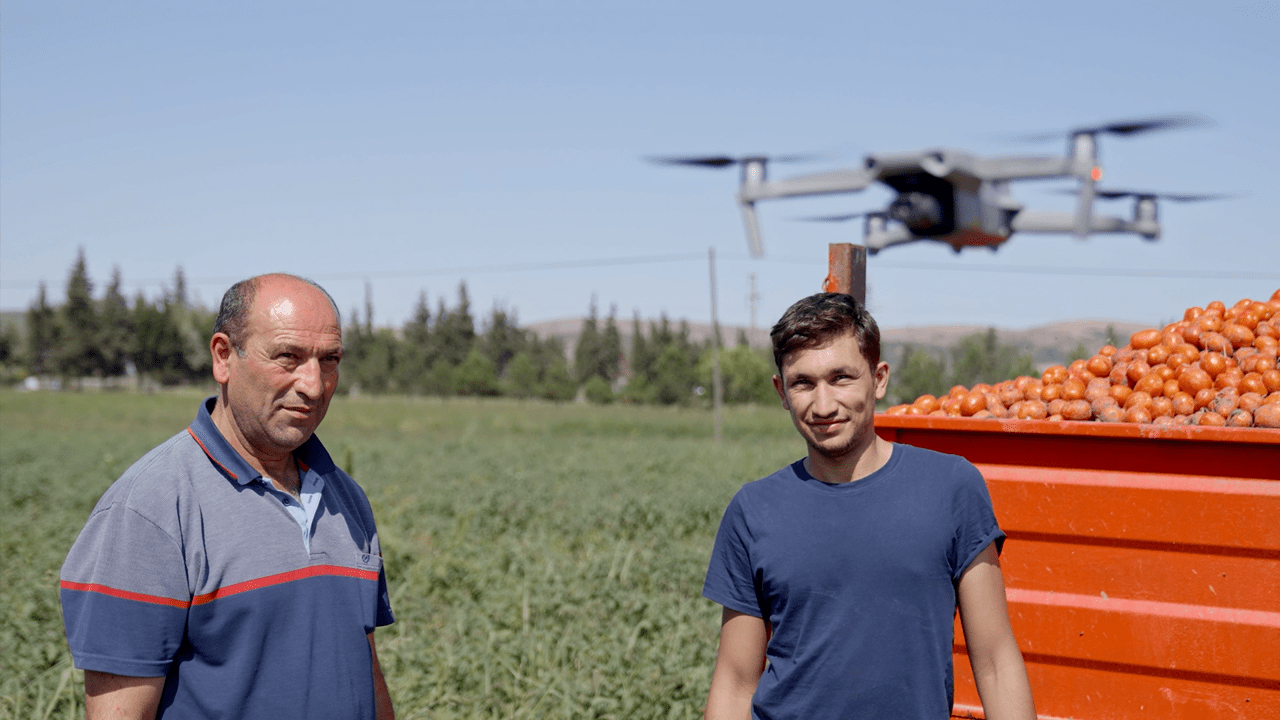 In accordance with its vision on sustainable agriculture, Tat Gıda makes huge contributions to sustainability by spreading its Contract Farming and Digital Agriculture efforts which enable farmers to produce more efficiently.
To be ready for changes both today and in the future, technology is the greatest tool we have to ensure sustainability. With this awareness, Tat Gıda is pioneering digital transformation across its supply chain from farm to fork, offering a visionary perspective on how to develop digital agricultural technologies and solutions.
With its vast agricultural knowledge, Tat Gıda supports farmers in sustainable agriculture, with the aim of leading agricultural transformation by spreading digital agriculture and applying new agricultural technologies in food production.
Cooperation to Develop Agricultural Technologies
Technology is critical for sustainability and readiness for the future. Tat Gıda works together with companies and organizations that develop and provide technology to implement digital agricultural applications to solve the problems of the future while creating added value at the same time. Analyzing data obtained by integrating technology into production processes, creating data-driven decisionmaking mechanisms and algorithms that increase efficiency, and efforts to develop new solutions provide resources and opportunities for sustainable, innovative agricultural production and business models.
In this context, we have initiated efforts to develop an Irrigation and Fertilization Algorithm that uses data collected from the fields to calculate the correct and optimal amount of irrigation and fertilization. These developed algorithms will help identify proper methods and practices to ensure efficiency and improve quality.
Tat Gıda is Transforming the Soil into Digital Fields!
Tat Gıda is one of the few organizations that can effectively use Satellite Technology to monitor the health of plants in the field. It is very difficult to assess fields completely, and field engineers spend long hours on it. By using satellite and sensor technologies, Tat Gıda can focus on the areas that need it, thus saving time and resources, as well as increasing production by utilizing data to foresee risks and take timely actions. In 2022, agricultural engineers were able to instantly monitor plant health in an area of 1000 hectares using the Field Health Maps web platform and the
Tat Gıda mobile application, analyzing the satellite images and climate data, which led to Tat Gıda achieving a yield increase of up to 10%. In addition, for large areas where manual control was difficult, plant development assessments were performed by taking images with drones, whose agricultural observation cameras offered faster and clearer imaging. Tat Gıda is instantly informed about the weather forecasts of the regions where it monitors agricultural production and the risk warnings of diseases that will affect tomato development with the 4 Agricultural Climate Stations it owns. The farmers are also informed about the weather forecast and disease risk warnings from these stations via the "Tat Leader Farmer" mobile application.
By the end of 2022, Tat Gıda's investments in digital agricultural applications and mechanization reached TL 25 million over the last 3 years.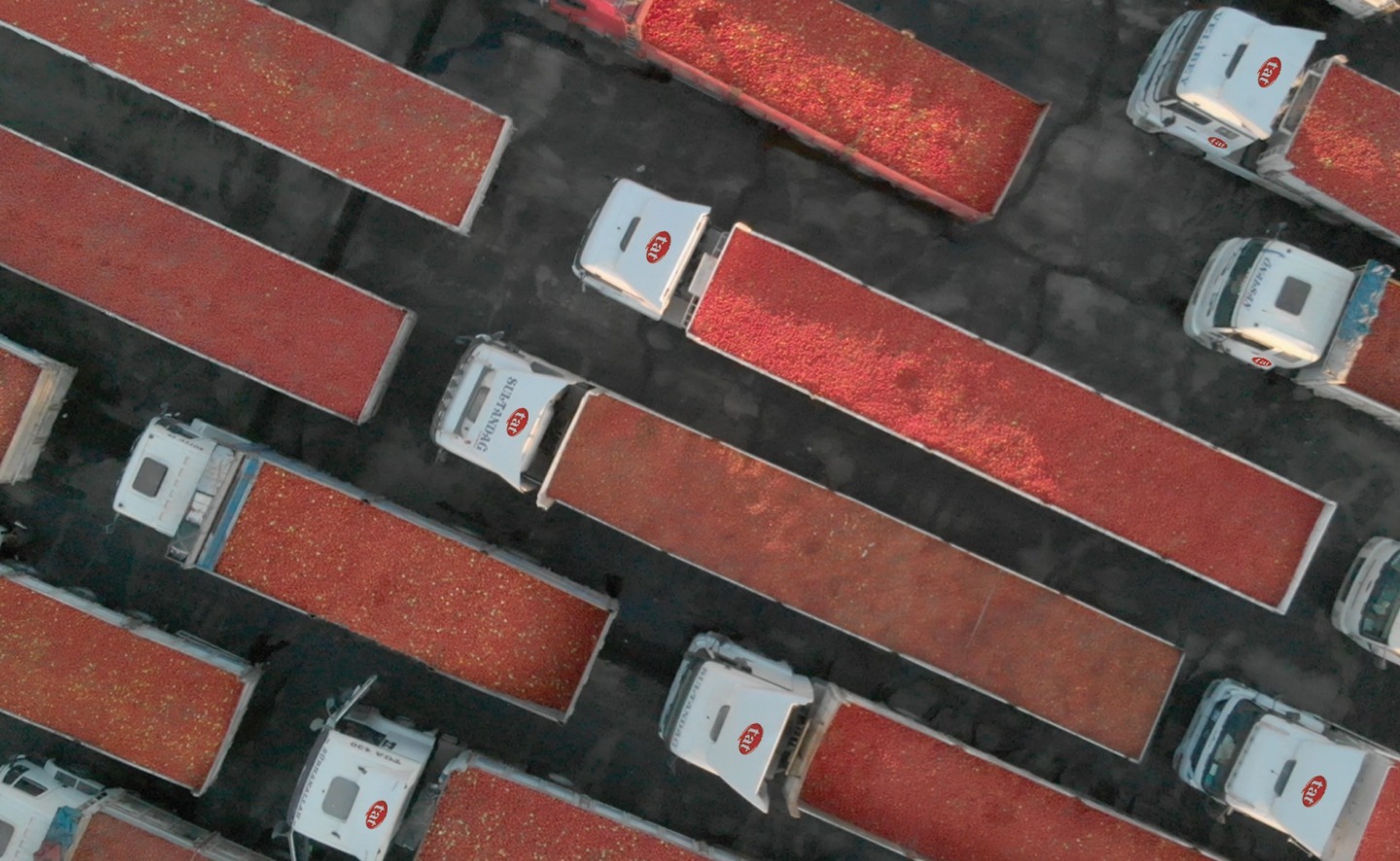 One of the most critical problems caused by global warming is water scarcity. Water use is the most important requirement of agriculture, and 70% of the limited freshwater resources around the world is used in agriculture. To ensure that plants receive the optimum amount of irrigation at the right time, Tat Gıda is carrying out research and trials for Smart Irrigation Technologies. Tat Gıda uses drip irrigation systems and other methods to ensure effective use of water while reducing the water it uses by about 30%. Launched in 2020, the Satellite Images Analysis for Irrigation Management application was implemented on an area of 265 hectares. In addition, climate stations and satellite images help monitor air and soil moisture to make predictions about irrigation, and then evaluate these predictions for optimal irrigation management.
Our Digital Agricultural Area has grown to 2,600 Decares Launched in 2018 in a pioneering development in digital agriculture, the size of our digital agricultural fields grew to 2,600 decares in 2022. With agricultural technological solutions and good agricultural practices, Tat Gıda has achieved 10-11 tons of yield per decare in its digital fields, while the average yield per decare was 7-8 tons in the region. Additionally, we lowered the cost of growing tomatoes per ton by 25% compared to the regional average.

Tat Gıda is able to perform direct analysis on fields in all the regions where it receives supplies from or produces with its Digital Soil Analysis Equipment. Soil analysis results are ready in 10 minutes, supporting fast and accurate decisionmaking. These devices can measure 9 different soil structure values, which are analyzed by experienced agricultural engineers to ensure the application of the most suitable fertilization programs.
An important technology in the field of agriculture, Digital Pheromone Traps capture pests and photograph them with cameras inside the trap to identify and calculate population density using image processing technology. Besides being used in pest estimation to calculate warning models, they also collect climate data from the field with a sensitive temperature humidity sensor, allowing Tat Gıda to take any actions necessary at the right time, saving time and money.
Guided by satellite, Automatic Steering Systems help save soil and/or fertilizer without tiring the driver or being affected by weather conditions, even at night, eliminating any unwanted spacing or overlapping. This technology has resulted in 5% space and 17% time savings in tomato production.
Tat Gıda is leading the efforts to reduce risk and increase efficiency along agricultural supply chains by providing transparency and traceability with Blockchain Technology. In line with its digitalization vision to create sustainable food security, Tat Gıda used first in Turkey the TTRACE Platform that a complete smart contract structure in an agricultural supply chain. This project's pilot study was completed this year. When the project finishes, it will make it possible to gather different stakeholders in the value chain on a single platform from farm to fork.
To spread digital agricultural technologies and increase quality and efficiency in agriculture, Tat Gıda provides preliminary information to farmers over the Tat Leader Farmer Mobile Application. Using satellite images to analyze plant health, the application provides farmers with information free of charge under the guidance of agricultural engineers.
In addition to helping today's farmers get acquainted with new technologies, Tat Gıda also cares about introducing young, new generations to farming and agriculture. Thus, we are working on new projects to provide knowledge and experience to visionary young farmers who have new generation agricultural knowledge, think agricultural R&D is important, and can use smart agricultural systems.
Digital Field Day
As part of our "Tomato Leaders" project, every year we organize "Digital Field Day" aimed to develop farmers, and their communication,and increasing digitalization in tomato agriculture. This year Tat Gıda organized its 5th Digital Field Day which is an important part of our vision of digitalization with solution partners. These partners set up promotional booths to exhibit their agricultural inputs such as fertilizers, smart agricultural technologies, machines, and seeds and shared their latest applications in the field of digital agriculture with farmers. Tat Gıda also shares its experiences and successful results in the field with farmers using its digital agricultural applications, contributing to farmers' awareness in these areas.